About Not So Profound (NSP)
Not So Profound (beta) is an indie newsletter dedicated to covering psychedelics, spirituality, and our peculiar love affair with the universe.
Stay up to date with new content sent straight to your inbox.
No more worrying about whether you missed something because of a pesky algorithm or news feed controlled by some big tech company.
Besides, it might be time to take a break from all that doom-scrolling and bring some psyche-delight into your life.
We passionately handcraft each edition in an entertaining manner, intending to offer you an infusion of delight during your busy day — all in less than <5-10 minutes of reading per issue.
It is written & curated by Dr. D — a Professional Psychonaut and Flâneur with a penchant for dirty humor, and his trusty sidekick, Mustafa — a praying mantis, and former Mormon turned atheist, with a slick mustache and multiple degrees in nihilism from a now-defunct Online University.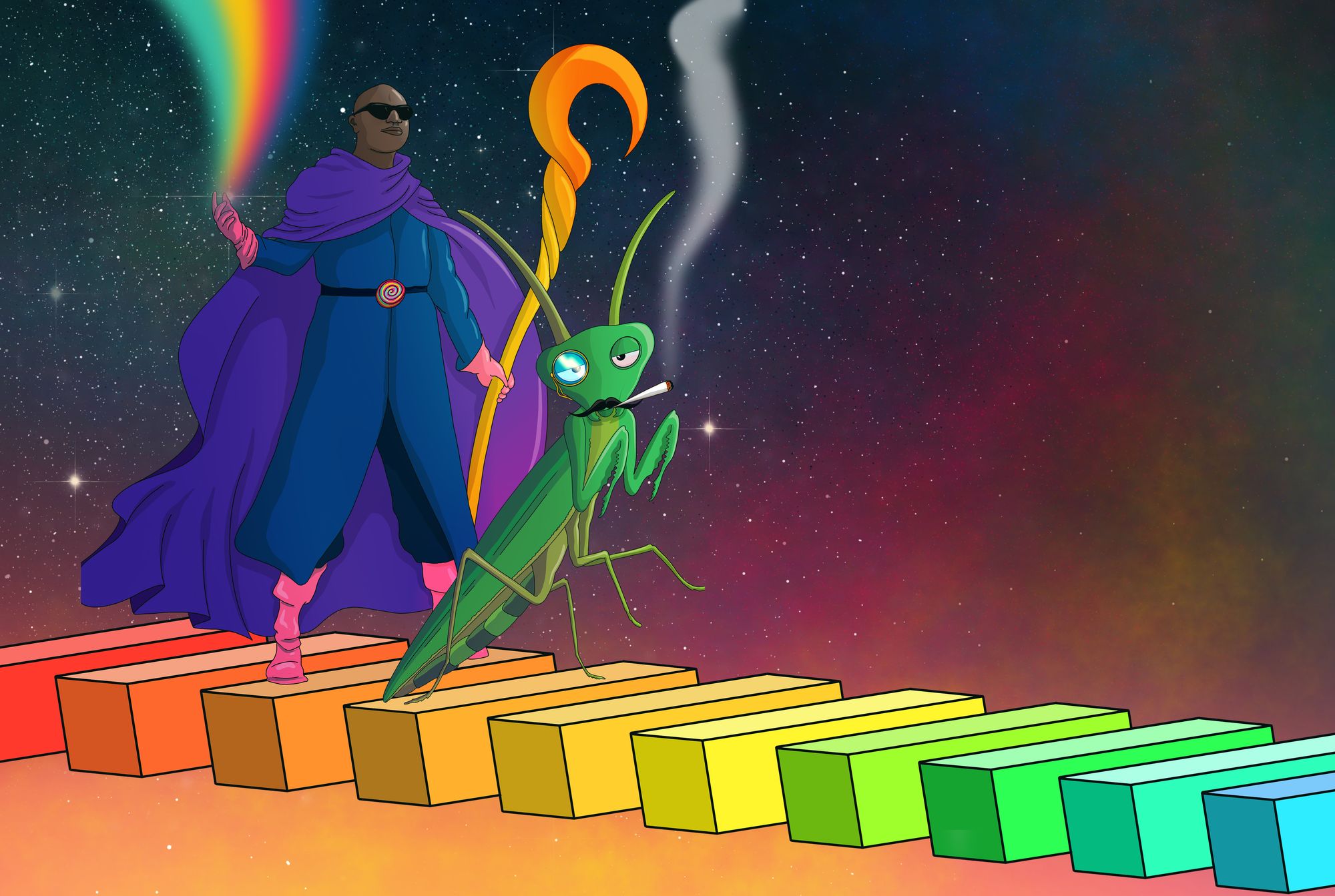 The duo goes on frequent, off-the-beaten-path cosmic adventures together in search of wisdom & insights that expand your consciousness and nourish your soul — then, filters everything through decades of personal experience, and distills it all into an entertaining email digest just for you.
Thousands of highly engaged readers find Not So Profound to be a delightfully unique perspective not found anywhere else in the galaxy.
If you're passionate about psychedelics & spirituality — Not So Profound is tailor-made specifically for you, and we would like to invite you officially to become a premium subscriber and join our growing community from around the globe!
Other than that... you might be thinking...
Why did you start NSP?
Our mission is to override social conditioning, heal, and free humanity from the clutches of the hive mind — one reader at a time.
The primary motivation for starting NSP is to organize a passionate community of like-minded individuals from around the world, so we can stand together for what we believe in, and if necessary, mobilize toward shared causes to help make a difference, together.
It's so we could band together as a tribe and heal together, regardless of who you are or where you are.
Plus, we're already obsessed with psychedelics & spirituality, so this doesn't even feel like work.
You could be wondering...
Why become a premium subscriber?
We source and curate Not So Profound from thousands of hours of research & decades of personal experience.
Besides having decades of experience, we actively spend an obnoxious amount of time researching, experimenting, talking to experts, and attending events — and then we synthesize it all into fun, bite-sized, entertaining content before it's delivered directly to you.
Becoming a premium subscriber gives you access to the full archive of everything that's already published, and everything that's still to come.
Plus...
We guarantee to lock you into our early adopter pricing of just $100 per year, and make you immune to any future price increases.
In addition, you can expect:
Fresh, bite-sized, exclusive content sourced & curated from hundreds of hours of research & decades of experience.
Surprise bonus newsletters.
Latest developments, research, and stories from the world of psychedelics.
Personal satisfaction from supporting a non-corporate, indy creator and fellow psychonaut.
Join a passionate group of people who have similar values & interests as you and stay informed at the crossroads of psychedelics & spirituality with a one-of-a-kind newsletter.
It's risk free, and you can cancel anytime.
Got tips or corrections? Send them our way!
Our readership is a remarkable source of excellent material and valuable knowledge - and when we come across something that you could benefit from, we add it to a future edition for everyone's benefit.
So, if you have any tips, corrections, suggestions, or anything else that might be of benefit to our community, please email them to:

When emailing us, please refrain from self-promotion, or sending any low-effort or low-quality content or claims without sources.
You should intend to be helpful to the community.
---
The Legal Stuff
Remember: any content published on Not So Profound is for entertainment and informational purposes only.
We do not condone or encourage violating any laws or the use of any substances, legal or otherwise — nor should you substitute anything we say as a substitute for professional medical advice, diagnosis, or treatment.
By subscribing to Not So Profound — you agree to these terms and take responsibility for any actions you may or may not take because of reading our newsletter.